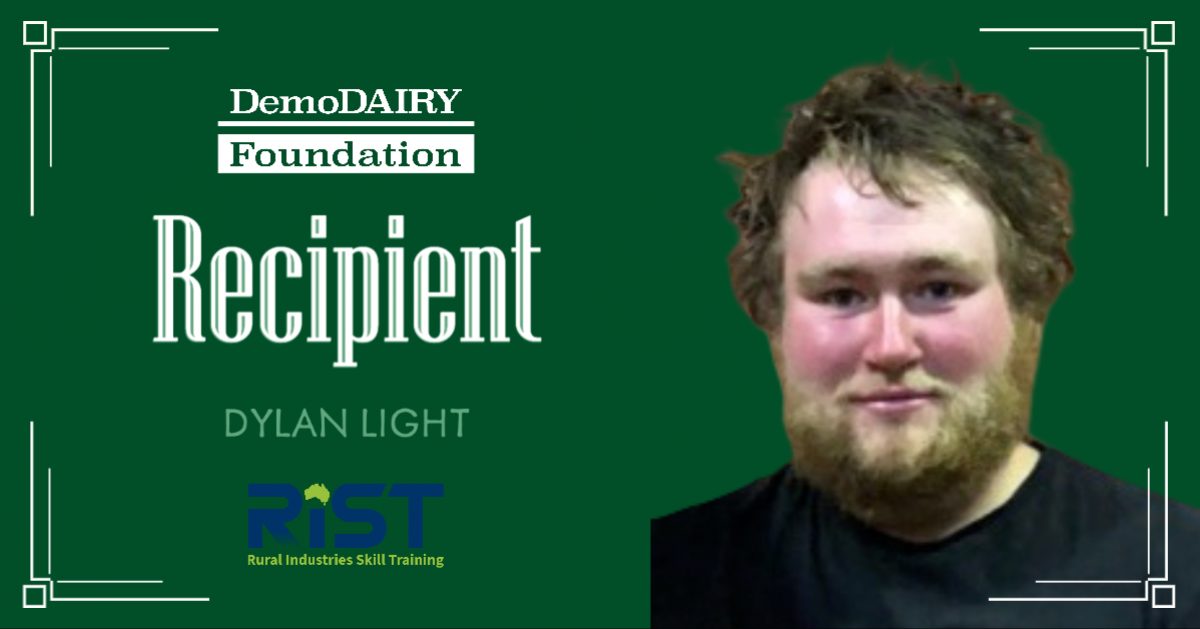 Dylan Light has only ever wanted to be a dairy farmer. As a 10 year-old he fell in love with the lifestyle and his determination to own his own farm has never wavered.
The 21 year-old has just become the latest recipient of a $5000 DemoDAIRY Foundation Scholarship to help him complete his Diploma of Agriculture at RIST.
He said it was an exciting time in his career and he was on track to own his own farm before he was 30.
"That's the plan and I'm reasonably happy with where I'm at," he said.
"My grandfather was on a dairy farm all his life – mostly in Gippsland. He moved over here for a few years and then went back, but we stayed…my parents, myself and three brothers.
"Since I was 10 I knew I'd be a dairy farmer. It's the lifestyle – you're always outside doing something and every job is different so there's lots of variety."
Dylan completed his VCE at Cobden Technical School and said he enjoyed studying and arming himself with more and more knowledge and skills to be a successful dairy farmer.
He has already completed his Certificate III in Agriculture with Craig and Donna Dwyer and Certificate IV in Agriculture with Matt Grant and will complete his Diploma this year before possibly continuing with an Advanced Diploma.
"I don't mind studying when it's my passion. I think it's pretty important to continue to build my knowledge so that I can run my business the best that I can," he said.
"I'd like to thank the DemoDAIRY Foundation for this scholarship. It's $5000 I don't have to find myself to continue my schooling and that's a massive help.
"There's more and more science coming into it now. There's things already that weren't around three years ago and I enjoy keeping up with what's new."
Dylan is currently sharefarming for Matt Grant at Scotts Creek and said he was very lucky and grateful to have the opportunity he did.
"Matt is great and knows where I want to get to. I'm milking 160-odd cows and half of them are mine. I'd like to own them all in the next 12 to 24 months," he said.
"It's about building up my herd and my equipment, getting to know my business and hopefully in six or seven years I'll be ready to look at buying my own place.
"It's something I love. I'm happy to talk the industry up as much as I can to get more people like myself into it. I know there was plenty of negativity around 3-4 years ago with the milk price, but I'm really positive about the future."
HOW DO I APPLY
Existing grants include;
Business management skill development: Scholarships of $2500 to $5000 per year to agreed courses. Dairy business management projects: Grants of $1000 to $2000 to create awareness in appropriate education organisations and assess proposed projects.
Innovation grants: Up to $5000: Offered through the contracted service providers (currently Agriculture Victoria, WestVic Dairy and some dairy companies) to the groups.
Capacity development grants: Grants of $2000 to $5000 to screened candidates.
Emerging issues grants: Short proposals developed with relevant industry stakeholders and reviewed by the DemoDAIRY Foundation board.
Applications can be completed online here www.demodairy.com.au/scholarships-and-grants/application/
DemoDAIRY Foundation secretary Ian Teese can be contacted directly on 0427 358 987 or email him via info@demodairy.com.au
Other board members include chairman Duncan Morris, Richard Downs, Ralph Leutton, Alex McCulloch, James Green and Maggie Leutton.
---